By Chris Tilley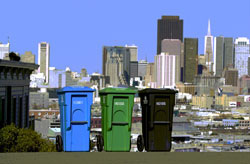 7. Reduce, Reuse, Recycle

Three R's aren't just an activity – they are a way of thinking. Garbage doesn't "go" anywhere except the Earth, and who wants to live in a garbage dump? Before you go to buy something, consider whether you even need it. If you do, think about whether the packaging is excessive, and whether you have a way to reuse, or at least recycle it. Whenever possible, buy recycled products and not only save energy, but also create a greater demand for such things as the paper and plastics you recycle.
Where does your garbage go? That turns out to be a very interesting question and very dependent on where you live. I live in Kelowna, British Colombia it's a fairly small community and all of our garbage goes to a local landfill. We have a good recycling program and can put most recyclables out at the curb and yard waste a couple of times a year. The yard waste is made in to compost. The landfill currently flares off the methane which is required and better that releasing it to the atmosphere. The methane is an even more potent greenhouse gas that carbon dioxide.(source) They are planning on using the methane in a power plant and that would be even better in that we would get electricity for something we have to burn anyways.
Vancouver BC also has a good recycling program. The garbage currently goes one of three places a local dump, a garbage to power incinerator and to another landfill that is about 300 km away. The local dump has methane extraction that is used to heat local greenhouses.(source) The incinerator is fairly modern one and there is a proposal to build a much bigger even more modern one.(source ) The question being what is more polluting the incinerator or trucking 500,000 tonnes of garbage 300 km. Using the same calculation from the food transportation shipping the garbage to Cache Creek emits 31,050 tonnes of carbon dioxide. The current incinerator emits 8,350 tonnes of carbon dioxide and produces 92,734 MWh of electricity.(source) The proposed plant is 80% bigger so that would be roughly 15,030 tonnes of carbon dioxide. These sounds more like the lesser of two evils so lets move on to a good example.
San Francisco has a goal of diverting 75% of their garbage from the landfill by 2010 through a variety of programs. They currently have a 70% diversion rate (source). That compares to:
So har are they doing it. First there is a California law that states that they must divert 50% and San Francisco decided to beat that. Second they actually have three bins for pick up the blue one for normal recycling. The green one for compostable material, everything from plant material to any food wastes including food soiled paper.(source) They receive 300 tons of material per day, compost it and then sell it to vineyards and other companies.(source) To encourage proper environmental behavior the rate you pay is based solely on the size of the black actual garbage can you can recycle and compost as much as you want. Their landfill is local as is the composting.
So it comes back to Reduce, Reuse and Recycle and Matt and Steph put it very well in Action 7. Now for some homework look into these questions for your community and feel free to post comments about what you find.
Where does your garbage go?
How far away is the landfill?
How does the waste get there?
Does the landfill do anything with the methane? Produce electricity or heat?
Is it incinerated? If so do they produce power? (www.carma.org to look up its emissions)
How much waste is diverted?