Who Are We?
Matt Hill & Steph Tait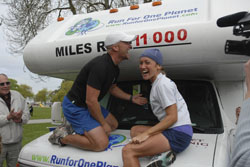 Matt Hill and Steph Tait shared a common dream to inspire a continent by conquering an unfathomable endurance expedition, in a way that had never been done before. In 2006 they co-founded Run for One Planet to "inspire environmental action, one step at a time".
On May 4th 2008 their tour was officially started in front of 15,000 supporters at the Vancouver International Marathon. Taking small daily steps, they ran across Canada and around the perimeter of America, totalling 11,000 miles, doing over 420 marathons as a dynamic running duo. While running a marathon each almost every day, they lead a team of over 30 people spread across the continent, spoke to over 30,000 kids, in more than 200 presentations, giving media interviews almost daily, raising over $120,000 for their Legacy of Action for Kids.
On May 8th 2009, Matt and Steph ran their final steps, returning back home to Vancouver across the famous Lions Gate Bridge under full Police escort, unlaced their 28th pair of destroyed Asics and gave the tour's final keynote at Western North America's largest green Expo. May 8th was not only officially proclaimed as "Run For One Planet Day" in the City of Vancouver, but the Mayor also acknowledged their record consumption of 1.5 million calories... each.
Matt Hill
Matt is the kind of ball of insatiable energy that reminds us all why we love life. He has always run with a spirit for life and people unmatched by most. His teachers thought that making him run might help quell his endless energy. But instead, a mile run down the lane behind his school gave him even more energy. Running was something Matt just couldn't get enough of. Inspired by his childhood hero, Terry Fox, Matt won his first public speaking award in the 7th Grade, on running. For more information on which Teenage Mutant Ninja Turtle Matt played, what it was like playing Jackie Chan's deputy, and other success he has enjoyed as an actor for the last 20 years (plus a glimpse into his 7 Ironman finishes), click here: www.Matt-Hill.com.
Steph Tait
Steph began applying her relentless determination towards entrepreneurial endeavours at a young age. When she was 7 years old, she decided she was going to make her first $100. Her entrepreneurial spirit continued with other small business projects, until she opened her first official coaching business in her dorm room at the University of British Columbia.
Since that time she has worked for global management consulting firms Oliver Wyman and Deloitte, has earned a Professional Certified Coach (PCC) designation from the International Coach Federation, and an MBA from the Ivey School of Business. Now living in Toronto, she works with ExperiencePoint, facilitating innovation and change management workshops that are transforming the way people learn, manage change and solve complex problems.
What Now
Although the run is now over, their passion to inspire runners to pick up the pace for the health of the planet continues. They currently serve as Directors for Run for One Planet's Legacy.
Their leadership of this unprecedented expedition has allowed them the opportunity to speak to nationally distinguished organizations like lululemon athletica, Whole Foods Market and Planet Organic Market, as well as hundreds of other local groups striving for excellence, like Olympic athletes and Student Leadership Conferences. Their community engagements also continue, with such opportunities as being members of BC Hydro's Team Power Smart Leaders, alongside Steve Nash, Bob Lenarduzzi, and Chip Wilson.