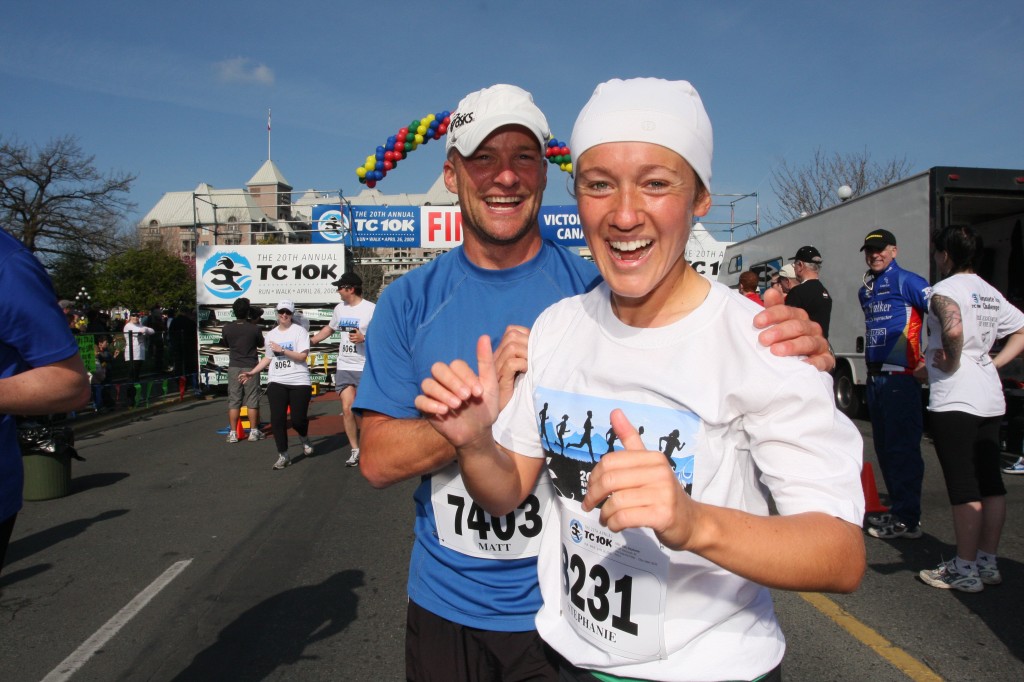 That was the scene Thanksgiving weekend, October 11th up here in Canada. We spent the weekend chasing Steph's sister around on her 1st ever Marathon, feasted with my aunt Jane & uncle Frank and a collection of family & friends at their annual Thanksgiving feast. At the end felt like we'd run a double (tour-like) marathon ourselves after riding mountain bikes around the course chasing said marathoner, with my uncle as route director! And to make the weekend even more special, we were made aware that everyone received the promotion material for next year's TC10K, with yours truly front and center on all the posters and race pack leaflets! Thanks to all who made our weekend incredible and congrats to Steph's sister Ash, for smoking the course in just under 4 ½ hours! And she's little like the sister, so "small steps" continue to be the theme adding up.
I am proud to share with all our readers we have just been formally invited to be lululemon's newest "Run Ambassador's" at their flagship location, West 4th Avenue, here in Kitsilano, BC. This fulfills a 3-year dream we've had, to represent our community with a company who shares the same values as we do. So thanks lulu, we are honored to be part of your community and excited to build the Run For One Planet presence in our home neighborhood! Stay tuned everyone for exciting developments as we create our R41P Legacy! I can't tell you just yet, but think, "running for the Planet and building community". That's going to have to suffice for now.
On the speaking front, we are grateful to be sharing our tour story and presentations to many groups, asking to have us. Last week we spent a really powerful hour with a young group of UBC students at their "entrepreneur weekend". This weekend we are speaking at the BC Youth Leadership Conference doing 3 one-hour presentations back to back! Feels like being back on tour (slightly).
And then November 7th, we have been asked to speak at the Olympic Oval in Richmond BC, for a group of BC Athletes about to make the leap to the National teams and Olympic prospect groupings. If we do a good job, we might even get to see the speed skating track and lace up! Stay tuned.
I would like to finish by saying how amazing it is to be able to continue to share with you, our community all we have happening. It is a testament to tenacity and vision and also, a testament to the power of the human spirit. I say this because it has been you, our loyal supporters, who have kept commenting on "what's happening" and "let me know if I can be of service to the Legacy", and this keeps us energized and eager to move forward with the exciting plans we have.
So thank you from our feet and hearts, for believing in this amazing Run For One Planet dream. I know we are building a Legacy strong with foundation and passionate energy (from you and our incredible Board of Directors), to help guide us into the future and the kind of world we desire to create right here where we all live, Planet Earth.
Please see this movie (http://www.youtube.com/homeproject) and share the link with all you know. It is one that has the power to change us.
Take care everyone and look forward to seeing some of you and hearing from the rest!
Matt & Steph