by Chris Tilley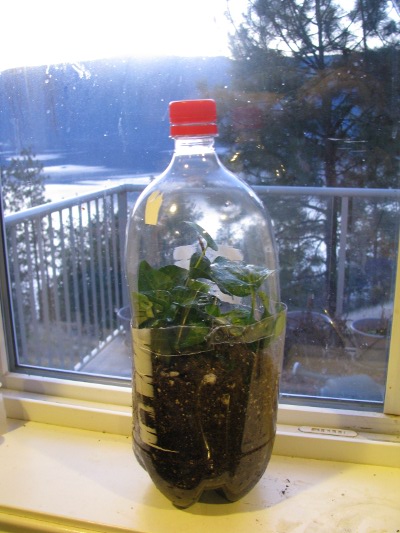 Today's project with my kids was to make a terrarium. I remembered back to my childhood and my mom made one out of an old aquarium. It had a couple of plants and a little pond made out of a bowl. We would put any critters we caught like frogs and snakes in it. Now I live where some of the snakes are poisonous so my kids know not to touch any snake.
My original plan was to lay a 2 litre bottle on its side and cut a door im to it. While this would work for starting seed it wasn't going to work for the Ivy that I had bought. I just wasn't going to fit. Searching the web for 'pop bottle terrarium' brought up a number of sites that had the bottle standing up. That was going to work much better for the size of plant I had bought.
Need
2 litre pop bottle
1 plant or a couple of seed (warm humid environment)
scissors or knife
planting soil
Instruction
Take the label off
Cut the bottle in half

Either replant the plant in the bottom filling as needed with soil or fill to about 1 inch of the top with soil and plant the seeds as instructed on the package.

Water
Take the top of the bottle and cut 4 slits about ½ inch long
Fit the top onto the bottom. Fitting the bottom into the slits.
Place in a window with good light.
The system is enclosed and thus will require less watering. For me this is very good as I forget to water. Between that and the cat we have no living plants in the house.  Hopefully the pop bottle will keep the cat from eating it.
This project allows the kids to learn about plants and what they need to live and gives them something to care about. We talked a bit about photosynthesis, carbon dioxide to oxygen, cleaning the air we breath and water we drink.