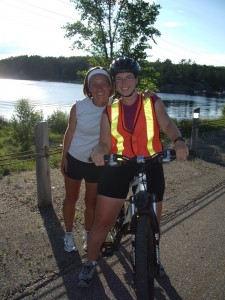 Because we don't feel sexy. But we got whistled at today on the side of the TransCanada, heading into Orillia, and immediately turned to each other and asked… "who was that for?"
It's Steph and Vanessa here. We'll tell you why we don't feel like we deserved the cat call. We haven't showered for 72 hours (well, ok Steph hasn't, but Vanessa managed to dip herself into the lake yesterday. Would that be considered a shower?). So we smell, we're hot, we're sticky, and we have greasy hair.
Vanessa wears a really sexy yellow and orange reflector vest while riding to protect us from drivers (now that's hot). Steph is wearing her marathon clothes for more than one day because we have no idea when we'll get laundry facilities again.
We get smelled out of the RV because the pooper isn't working properly. It's a recent problem, and if we have the windows in the front of the RV open when we're driving we can smell the pooper throughout the rest of the RV. It smells like moldy old poo and it permeates our clothing and the seats. Did we mention the Black and Grey are FULL and we don't know where the next RV site is?
We get caught in the rain, then the sun (think Toronto summer heat & humidity), then thunder showers. We sweat, we get muddy when it rains, the sun comes out and we get sweaty again, come into the RV, cool down, then the sweat dries and we go out there and do it again so there is salty sweat upon layers of salty sweat.
Now does that sound sexy?? This is why we wanna know… who got whistled at on the side of the highway??!!