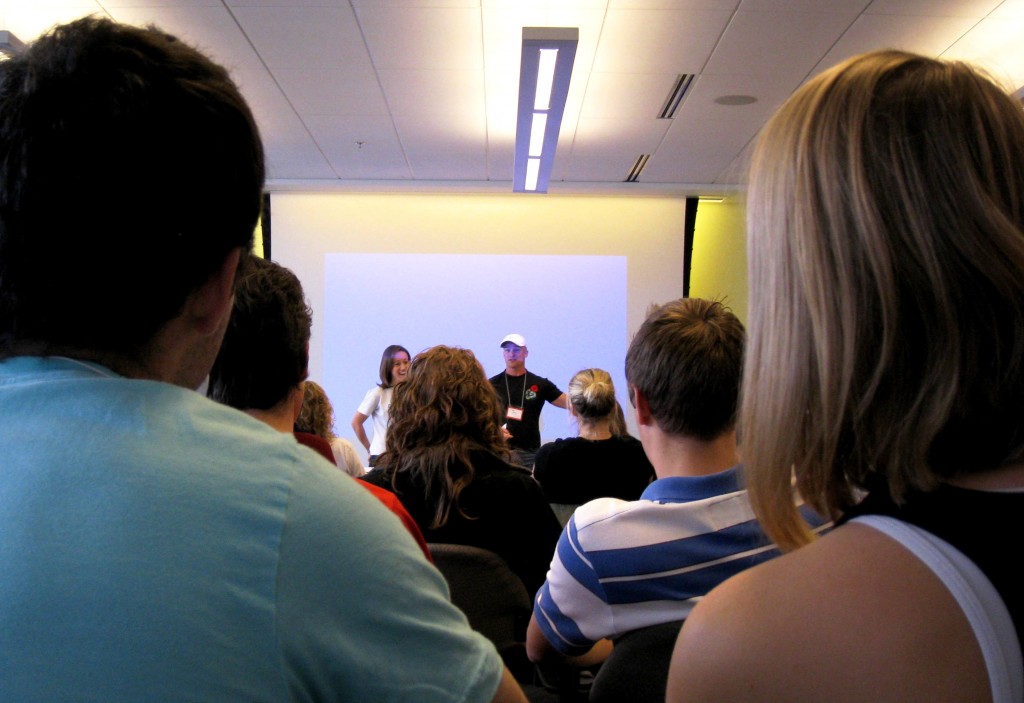 Picture two post tour runners, now sharing the story of their 11,000-mile journey with others in different settings and locations. Picture these same two, getting shivers as they share all the ups and downs of life on the road, life building it and now, life after completing the biggest adventure thus far in their collective lives together.
This has been the scene for much of the last 2 months, as we continue to have the opportunity to speak to some amazing groups and offer our hearts to touch their lives, with lessons and funny stories from our time on the big highway Run For One Planet. Plus, we get to show our video every time, which always has the effect of bringing emotion and memories which seem centuries deep in our physic and never fails to set the mood for our group of intended talk-to's.
Earlier this month our fellow team mate, Rob Kelley set up a really fun, inspiring evening with his Capilano Eagles running group. I think the biggest take away for us was hearing their founder say, "I came tonight thinking I would hear a lot of running stories. I leave tonight however, having gained insight into my responsibility for my impact on the Planet and I feel empowered because of your message and simple action steps, that I can actually make a difference".
This is what it is all about and such a huge gift for us to receive. Thanks Rob and everyone at Cap Eagles, we look forward to the next hill workout with you all
Then we sped up to Kelowna for a weekend of 3 back to back presentations with the BC Student Leadership Conference. It proved another amazing opportunity for Steph and I to share our story and leave a lasting Legacy for change through a simple message of Action. Thanks to Norman and everyone for your generosity and the comfy night's sleep.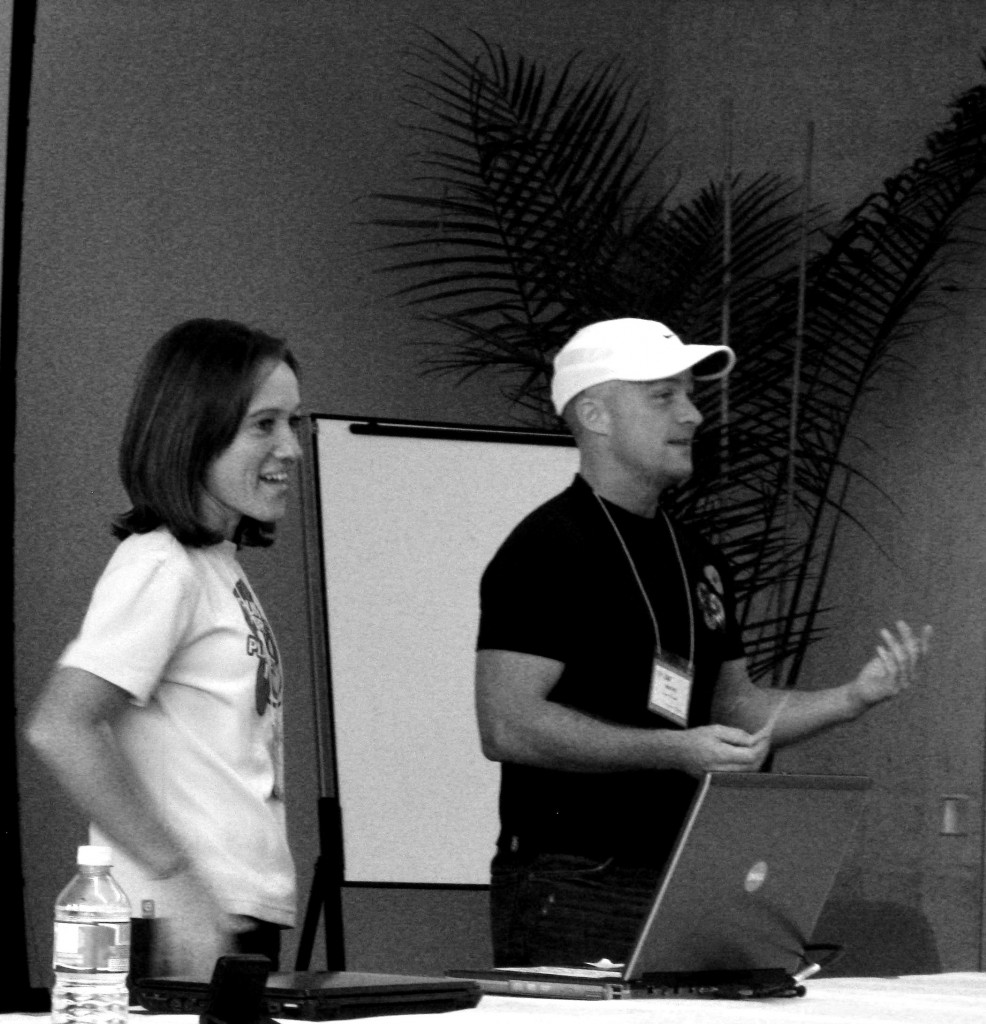 This past weekend, November 7th we found our way to the great metropolis of Richmond BC, home to the Olympic Oval where speed skating will be the thing over the days of competition which begin in roughly 90 days! I remember in 2002 when Vancouver got the Games and I thought, "it's so far away". And here we were, driving up to the front of this impressive building (built with a roof from reclaimed pine beetle lumber) to lift this world-class building as a showcase of what we can build with a soon to be waste product and set a record at the same time. It's the longest wood beam structure in the world and if you see the roof above the ice it will blow your mind and inspire the athletes who will be competing here, to skate fast with passion to win and energy to power a city, celebrating athletic achievement at it's highest order, the Olympic Games.
We had been asked by Andree-Anne Leroy from Canadian Sport Center Pacific to deliver an early morning keynote to a room full with Olympians present, past and upcoming. What a privilege for Steph and I, to speak to this most auspicious group of athletes and share some road stories to inspire them to keep reaching for their personal dreams, and also, tonot forget to enjoy the journey along the way.
Joe Hitchcock at BC Athlete Voice had recommended us to Andree-Anne because he felt we had built our tour by thinking and acting outside the box. I think too, because he saw something in us as regular people, that his athletes could relate to on an early rainy Saturday morning. We joked that not so long ago, we'd have been slogging our way out to Horseshoe Bay and back to Kits, through soggy Saturday's like this one was, to complete our 34 miles of tour endurance building. That got a few eyes sparkling as this room knows all about having to just "get out there and do it", even when it is crap weather out and they'd rather be sleeping in or having an extra coffee. I guess this was our common connection, a room full of people all reaching for a very personal, yet, collective dream in the sense that everyone shares in the personal drive of someone reaching way outside themselves for some elusive (to most) dream. In their case, it's the dream to compete at the Olympic level of excellence. For Steph and I, it was to compete with our-selves (and cars), to circumnavigate a continent to inspire change through the action of running.
I believe that is why people from all walks of life love the Olympics, because they recognize a fire burning inside them-selves when they see an athlete going for gold. And like we found, people want to support other's stepping up and outside of the norm, especially if you ask them for support or at least to come out and watch.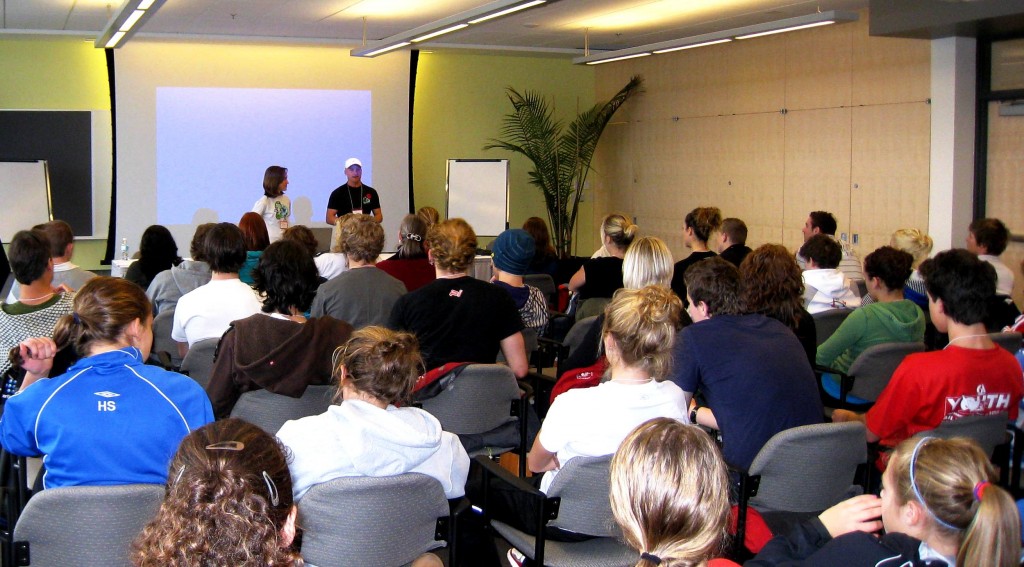 We had a total gas sharing how we almost got blown off  that bridge in South Carolina after hearing someone yell from a passing car, "run Forest run". Or how the hills and mosquitoes of Northern Ontario almost took us down (or away in the case of a gang of mosquitoes almost getting Steph airborne). Or the time we were both sicker than dogs in Washington DC, but went on out on our only day off to realize our dream to see a little of the Capital of America. Ok, we both found ourselves back in Racy by early afternoon and slept for 14 hours. But as we got up and ran through the cold and our colds the next day, we fought through the adversity and pain because there was a greater cause at play and a mission so strong in it's purpose that we found it somewhere to keep taking really small steps forward.
We could have talked with this incredible group of athletes all day. If one believes in Dharma, then on this last Saturday, I believe both Steph and I were living ours. It's such a gift to share a story and lessons learned. Not because it lets one stoke an ego for validation, but because it allows spirit to join in humanity through connection with others of like-minded living and being.
I truly believe, passionately actually, that when one reaches for his or her highest purpose, it sets off an explosion of positive energy, which affects everyone it comes into contact with. We were buzzing for the rest of the weekend at the potential and possibilities of inspiring others and the gift came back to us 1,000 fold, by way of a group of people also reaching for their highest high.
This is how we are creating a better world, by reaching beyond ourselves and joining spirit with human connection. It's how we succeeded on tour; it's how we are solving the climate crisis. By people reaching beyond and going for their personal Gold, we change the collective energy around the Planet.
I believe this is why an institution as the Olympic Games (though fraught with financial excess and has lost a little of it's original pureness to corporate and personal "what's in it for me" profit). Yet, it needs to continue. It needs to be part of our reason to celebrate a glorious race. Or be compassionate from a crushing defeat. Our world needs to witness athletes young and old, stretching the limits because it lights a fire so deep it has the power to stop war and hatred towards countries, even if it's only for the days and nights of official competition.
I believe simply, it brings our humanity together. And on this rainy Saturday in early November, we were privileged to come together with an incredibly inspiring group of humanity.
Thanks Rob Kelly and Cap Eagles, Joe at BC Athlete Voice and Andree-Anne at Canadian Sport Center Pacific, for inviting us to share an hour with you all.
We look forward to our upcoming talks with all the Sun Run Leaders on November 22nd! Come join our monthly Run For One Planet/Lululemon  "Planet Runners" run groups, on West 4th Avenue in Kits! Stay tuned here for details, dates and times!
I'm proud to be from Canada.