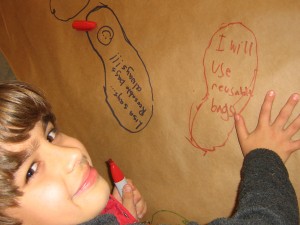 A few weeks ago (1/13/09), Brandon came home from school, very excited about a presentation he had seen at school. From his explanation, it was clearly an environmental group. He told me, "our planet is like a leaky life-boat… and when this planet is gone, it's not as if we can say 'oh well, that was nice… and go and find another planet'." He was clearly quoting the speakers or video he had seen… and he was quite fired-up. He told me the group was going to be at our local Whole Foods that evening, asking for donations. OK, fine — but you've seen them already.
A few minutes later, when I told him it was time to get ready for Tae Kwon Do, he fell apart. "Mom," he said, "I can't go to Tae Kwon Do. I have to go to Whole Foods…." I wasn't convinced until, with tears in his eyes he implored, "Mom — this is about our FUTURE. I'm really concerned." Not much to say about that, now, is there? I was rather annoyed with these people — who did they think they were tugging at this kids heartstrings?!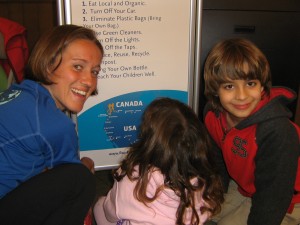 OK, show me their website. http://www.runforoneplanet.org/ I really didn't have to read it because he'd already quoted most of what was on there, including their entire video. So I called David to say that plans had changed: we were off to Whole Foods instead of TKD. Brandon insisted on taking money he had set aside for Tzedakah (charity) — of course, then Mirka did, too. He was so passionate; this was clearly more important than TKD.
When we met Steph and Matt, they immediately remembered Brandon as the really interested kid from the front row at school. Their message is simple: each person can do ONE thing to reduce their carbon footprint. And they're running through Canada and the US to spread the word. The money the raise will then go to seed child-initiated environmental programs. The kids and I reviewed the list and checked off what we already do: compost, use re-usable bags, by local & organic food (we LOVE our local CSA!! — thanks Polly and Susannah for pushing us to get involved), recycle, etc. Most touching, though, was the kids' donations. I got teary-eyed when I recounted the story to Steph.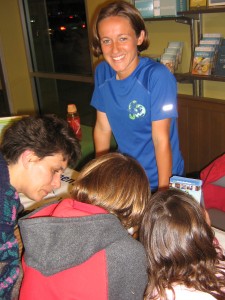 We all got so wrapped up in Brandon and Mirka that they forgot to get video footage… so Steph came to our house the next day to video me and Brandon. We talked about how the environment is something Brandon is really passionate about, but Brandon was holding back a bit. Finally he whispered to me, "Mom, I'm afraid I might lose my composure." I convinced him that it was okay — showing emotion was how he could show people his passion. Then we talked about how he could work to put his dream into action (just like Martin Luther King, Jr., who they had been learning about in school).  I'm so proud of him. He's a crazy storehouse of knowledge — he remembers everything he reads and shares his knowledge freely — but this passion and emotion on the environment was beyond that. The whole experience reminded me to talk to the kids more about why we do what we do, like buying local produce (http://homesweetfarm.com/) and bugging them to turn off lights.  And the kids reminded me to ignore what's on the calendar every once in a while and go with what inspries us. I am still awed by their willingness to give tzedakah to a cause they believe in.
Steph stayed for dinner that night, which thrilled the kids. It was a typical crazy weeknight at our house, but I think she was happy to join the bustle of a family dinner and we felt like we had really become friends.